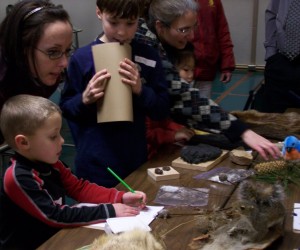 Saturday, November 2, 2013 ~ 11:00 AM – 12:30 PM
Explore nature with your child at our family nature program hosted at the Portville Free Library.  The program includes the story "The Mitten" read by our naturalist followed with hands-on exploration of nature treasures and creating nature crafts.
The Mitten is a classic Ukrainian folk tale about a mitten that is lost by a young boy and the animals that take refuge in the mitten until it breaks! The values expressed include tolerance and cooperation. The activities promote understanding animal adaptations to harsh winter conditions.
When it's cold outdoors, kids will warm quickly to exploring our animal artifacts and creating winter crafts!
This program has activities that parents do with their children.  Child(ren) should be accompanied by an adult.
For parent(s) with child(ren) ages 4-9.  Indoor Program. FREE!
Pre-Registration Required 716-933-0187
Location ~ Portville Free Library ~ 1 North Main Street, Portville NY 14770