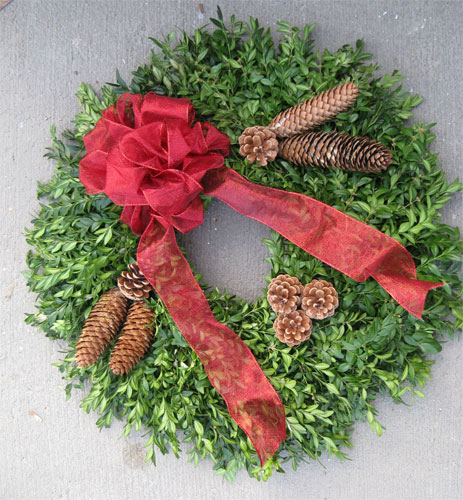 Thanks to everyone's hard work, we had another record-breaking year of wreath sales, selling a combined total of 381 fir and boxwood wreaths!! This exceeded last year's sales, our previous record, by more than 30 wreaths.
Once all those wreath orders were in, a small army descended on Pleasant Valley Greenhouse for two days, decorating 324 wreaths. Each wreath is unique, each one beautiful, and all possible because of our amazingly wonderful volunteers. We are always thankful for our volunteers, especially this time of year when all around the country people are counting our blessings.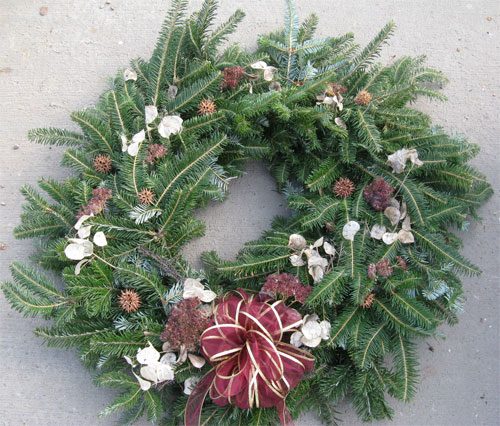 Volunteers gathered flowers, seed pods, pine cones and other decorating items for months in advance. Volunteers donated almost a mile of beautiful ribbon. Volunteers tied 325 bows. Volunteers sold wreaths. Volunteers decorated wreaths. Volunteers packed wreaths for shipping. Volunteers delivered wreaths.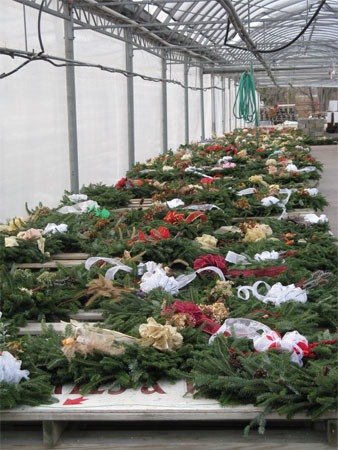 From 1-4PM on Friday & Saturday of this week, people who ordered a wreath will come out to Pleasant Valley Greenhouse pick them up. With so many choices, some people spend more than 1/2 hour to make their choice. Will they choose a white, red, gold, or other bow? Does traditional or more modern suit their style? Will the wreath be hung on their own front door or given as a gift? No matter the answers to these questions, everyone is sure to find the perfect wreath.
Thank you for all of your support!
WISHING YOU A WONDERFUL THANKSGIVING SHARED WITH FAMILY AND FRIENDS