News and Announcements:

We have talked a great deal about invasive species over the past few months in our programs and writings. I have learned a great deal about the cause and effect one species can have on another. And then the pandemic hit, shutting down everything except the local food stores, drug stores, hospitals and anything deemed essential. It gave me pose to make the comparison that Covid 19 is some kind of an invasive species of its own. It has debilitated us as social human beings, it has disrupted our economy, and it has stolen life itself from others that are near and dear to some. We have battled it by isolation. We have tried remedies that are well known as well as some that are new. We have tried to eradicate it, and we are still looking for a solution- yet it persists. I know it has changed my thoughts and actions, realizing this may be the "new normal". I have wondered "How do we proceed forward?" And yet we do. We go on living and working and laughing and loving and enjoying this life with great hope that things will get better. We will adapt and change because we are an innovative people.
Pfeiffer Nature Center is a safe way for people to connect to their local outdoor surroundings. For most people, the thoughts of traveling very far from home have been postponed for future dates. Planned vacations have been cancelled, weddings have been cancelled, and recreation programs have been cancelled or altered. We are fortunate that we do not have to travel far to have an uplifting, energizing experience to rejuvenate our souls. Our two locations are so unique. The Lillibridge location is a peaceful place of sanctuary with the historic cabin and old growth tree forest. The Eshelman property is incredibly diverse with the old growth trees, open fields, rock formations, creeks, and pond. Through this pandemic, people have realized how important these outdoor spaces are to their health and mental wellbeing. People have been visiting these properties and exploring this Pfeiffer Nature Center Organization, hopefully having a new appreciation for what it can provide for our community.
As we begin to open up our Country, the staff at Pfeiffer will adapt by following the guidelines and using safety precautions to provide outdoor activities to the public. Please look for our emails and postings on our website and share Pfeiffer with family and friends. Visit our properties as often as you can and take in the beauty that it offers. Our members are vital to our community and together we will overcome the negative effects of this invasive species.



-Mary Kichman, Executive Director at Pfeiffer Nature Center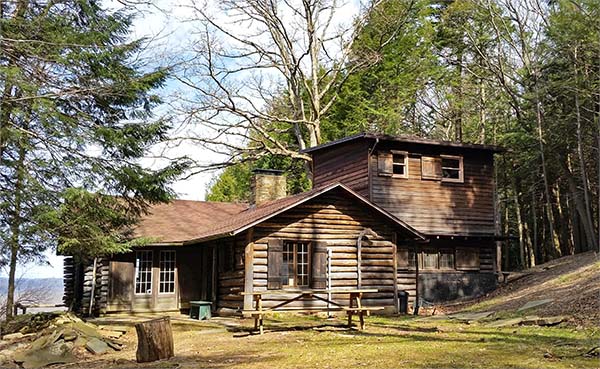 Love a great view?
Looking for a relaxing stroll, refreshing hike, or strenuous run through the woods?
Want to learn more about the natural world?
Do this and more at Pfeiffer Nature Center!
Pfeiffer Nature Center is home to more than 676 acres of nature's bounty. Located in rural, southwestern New York State, you'll find miles of open-access hiking trails, a historic American Chestnut log cabin, great birding areas, a picturesque pavilion available for rent, and so much more!
The Nature Center has two beautiful properties to explore. The Lillibridge Property consists of 188 acres of forest and has a rustic American Chestnut log cabin listed in the National & State Registers of Historic Places. The front of the cabin offers a spectacular panoramic view of both nearby farms and distant mountaintops. A timber frame pavilion offers a covered shelter for picnics and other events in the meadow.
Perhaps the most notable and majestic feature of the property is the 20 acres of rare, old-growth forest. It includes large specimens of Eastern Hemlock, White Pine, Red and White Oak, American Beech, and more. Hikes on our six miles of marked foot-trails pass through a variety of forest ecotypes, such as coniferous and mixed deciduous forests. Our terraces and slopes that rise 700 feet above the valley hint at 350 million years of geologic history.
The Nature Center also owns 488 acres on Yubadam Road, the Eshelman Property, which has an active sugar bush, on-going scientific research projects, and a small farm. There are nearly 4 miles of trails through forests, meadows, transitional zones, near ponds and wetlands. More trails are being developed to support snowshoeing and cross country skiing.
For those who want to learn more about the natural world, the Nature Center offers interpretative opportunities in science, nature, and art through programs and events throughout the year.
Get to know Pfeiffer Nature Center – find a spot in our woods to enjoy peace and quiet, come to our programs, become a member, volunteer, enter our film festival, or choose countless other ways to get involved. We hope to see you soon!