Volunteering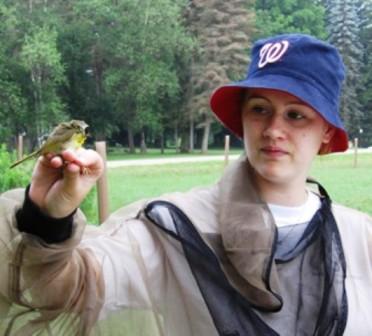 Are you interested in…
Working with others who share your passion for nature?
Contributing your time to a worthy cause?
Learning new skills, gaining new life experiences, building a resume?
If you answered yes to any of these questions, then we have some great opportunities for you!  Volunteers are the backbone of our organization.
They ensure our success by providing nature-based programming, caring for our living museum, and helping with the daily tasks of running the Nature Center.   Through this work we help create an area for scientific research and the enjoyment of nature.
Who can volunteer? Anyone! We work hard to match the right person with the right job.  In any position, guidance is provided to allow you to be successful.
How can I help?
Check out our Current Volunteer Opportunities for lots of great ideas.
If you like the outdoors, we have trail maintenance and site repair.  You can lead nature hikes and teach programs.  How about helping as a citizen scientist to band birds, take tree measurements, count frogs, or collect water samples?  Maybe you'd like to help keep hikers on the right path during our annual Woods Walk. 
We have dozens of volunteers that decorate holiday wreaths for our annual fundraiser, help plan special events, and work on committees.  Volunteers also help with the day to day business processing memberships, preparing our newsletters and mailings, entering data, and maintaining our website.  Leadership volunteers chair committees, serve on the board, raise funds, and build community support for our mission and organization.
Get Involved! Call us at 716-933-0187 or contact us by email to get started.  Click here for our volunteer application.