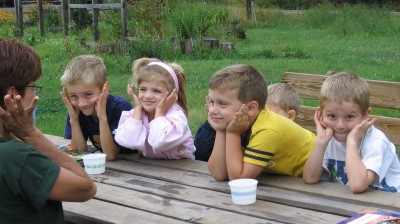 Young Minds Thrive When Soaking in the Beauty of Nature
Springtime in the woods is full of wonder and magic! Being outdoors in nature is the perfect backdrop for inspiring children to become passionate about the beautiful Earth we have inherited. Showing little ones how amazing nature really will teach them to becoming compassionate stewards of nature. Our Preschool Spring Walk encourages young children to get outdoors after a long cold winter and explore the beautiful world around them! This program is designed to keep little hands and eager minds busy. We love our natural world and want to share it with everyone- especially the children! We hope you will join us Saturday April 26 from 10am to 11am at our Center at 1974 Lillibridge Road, Portville.
Preschoolers can come with a parent, grandparent, or other adult. In just one hour, children will take a short guided hike in the forest and delight in an environment where the plants and bugs come alive! Participants will play a fun and educations nature-inspired game – and have a surprise to take home with them.
The cost for the program is $8/person. We will be spending the hour outside – rain or shine – so please dress appropriately. This is the perfect kick-off for our other preschool walks and programs for in summer and fall! Reservations are required. Register online now or call 716-933-0187.