Lillibridge Property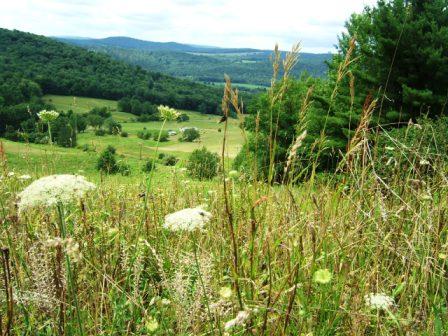 Our Lillibridge Property is a 188 acre site located on Lillibridge Road in Portville, NY and contains six miles of marked trails for your enjoyment.
The property ranges in elevation from 1,900 to 2,300 feet above sea level along a steep valley wall that faces west.  The views are spectacular and on a clear day you can see twenty-two miles west to the peaks of Allegany State Park.
This spot was once home to an ancient shoreline of a shallow sea and evidence of this period, some 350 million years ago, is written in the rock, with fossils of brachiopods, crinoids, and beach sandstones.  An ice-age glacier filled the adjacent valley just up to the level of the property.  Glacial erratics litter the mountainside.  The abundant soil types account for rich and diverse ecosystems that support a wide variety of tree species, plants, and fungi.
The property is mostly forested and contains 20 acres of old-growth trees, predominately Eastern White Pine, Northern Red Oak, White Oak, and Eastern Hemlock, many over 200 years old.
The old-growth forest provides a wonderful opportunity to observe unique characteristics such as pit and mound topography and standing snags.  It also supports abundant vernal pools, providing critical habitat for frogs, insects, and salamanders such as the Red Eft, Northern Slimy, Weherle's, and Jefferson salamanders.  The forest floor sprouts an amazing variety of mushrooms in late summer.
The area is considered a transitional zone, and has species common in both the Northern Hardwood and Mixed Appalachian forests.  Some of the magnificent species you can observe include: Chestnut Oak, American Beech, Cucumber Magnolia, Red Maple, Sugar Maple, Black Tupelo, Yellow Birch, and Yellow Poplar.  The second-growth forest has an understory populated with Witch Hazel, Striped Maple, and saplings of the American Chestnut.
Prior to the early 1900's a good portion of the property was a Chestnut-Oak forest.  In 1904 a blight introduced from Asia decimated the American Chestnut forest destroying all the mature trees.  American Beech filled the void left by the Chestnuts.  Our cabin was constructed in the early 1940's from dead Chestnut trees taken from the property.
A small meadow and the adjacent timber frame pavilion provide a nice place to take in the scenery and observe the multitude of butterflies and birds that abound.
Hike our trails, view the wildlife, enjoy the wildflowers, navigate our geocaches, leave your daily stress behind and breath in the wonder of your surroundings.