WoodsWalk & FonniFest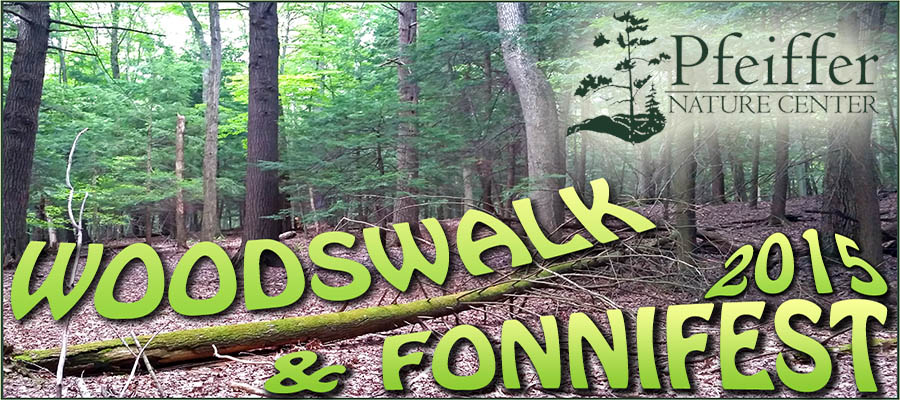 Woodswalk & Fonnifest 2015 has come and gone, but stay tuned for what we have in store for next year, here at Pfeiffer Nature Center! For now, you can check out the 2015 Run and Walk times here!
♦ September 27, 2015 ♦
---
 Woodswalk and Fonnifest is a community event honoring the legacy of two local women rooted in nature; each artistic, creative and humble in their approach of every person they met, extending grace and dignity.
Fontilla Timmons was fiery, passionate, musical, artistic and generous.
Wendy Pfeiffer Lawrence was meditative, contemplative, grounded, artistic and generous.
Combining their passions, we were inspired to create an all new Woodswalk and Fonnifest!
    Located at Pfeiffer Nature Center's Lillibridge Property (1974 Lilibridge Road, Portville NY), we will offer both a 5k run and walk, and this year a 12k run and walk. In addition to new trails, FonniFest will offer local area bands and open mic, playing a musical memorial tribute to Fontilla Timmons with music on the mountaintop, live from Pfeiffer Nature Center! There will be lots of friends, food, and fun. A wonderful family friendly event at the top of the mountain!
You can also look forward to tours of our historic chestnut cabin!
---
 Parking will be on-site.
Please drive carefully depending on your time of arrival. There may be runners, walkers, and general public crossing Lilibridge road at times. Drive slowly and be aware!
---
To get to Pfeiffer Nature Center:
This amazing event is being held at our Lilibridge Property, which is located at the crest of Lilibridge Road in Portville, NY. The Lillibridge Property consists 188 acres and 6 miles of hiking trails.  It is home to a national & state registered historic cabin and is one of the largest privately held and easily accessible tracts of old-growth forest.  The Lillibridge Property is located at 1974 Lillibridge Road, Portville, NY 14770. View on a Google Map
---
Woodswalk & Fonnifest Navigation