News and Announcements:

I find myself in a unique position of addressing the members, staff and community of Pfeiffer Nature Center about the Corona Virus that has taken hold of our entire world. It seems that we are all living in a time of uncertainty, where the rules change almost daily, and we find ourselves checking in more often so that we don't miss the latest updates. In our normal, everyday lives, we find it difficult to disconnect on a daily basis to seek out the solitude of nature… and now we are being told to distance ourselves from our everyday contacts, and our routines are being interrupted, and we are confining ourselves for protection from an adversary that we cannot even see. It is unsettling for most of us, and yet I know that I need to remain spiritually grounded, which for me is always easier to do when I am outdoors… walking, and listening and breathing in all of the life and the green spaces around me, while taking in the wonders of nature with the return of the birds, and the scurry of squirrels, and the deer foraging for the new growth as it springs forth from the earth. Spending time in nature can help relieve stress and anxiety.

Please know that Pfeiffer Nature Center stands with our members and community during this sensitive time. Our thoughts and intentions are focused on keeping staff, volunteers, program participants and visitors as safe as possible. For those of you that are unwell, we wish you a very speedy recovery – stay home, medicate and recuperate. Our thoughts are with you. For those who remain healthy, we remind you to remember to practice social distancing and good personal hygiene. While we at Pfeiffer Nature Center have cancelled our programs through the month April, we will be working remotely planning future programs for the remaining year 2020. We would also like to let you know that our trails on Lillibridge Road and the trails at the Eshelman property on Yubadam Road remain open for use. There are 676 acres of woodlands and water to visit and explore, and anyone needing some fresh air, or to find a place for respite, reflection, and peace, as well as some daily exercise is welcome. We ask that you remain respectful of others that you may encounter and keep an acceptable distance. The trails at Pfeiffer offers some amazing green spaces to take a walk to lift your spirits and find solace in nature. We look forward to meeting with you again soon, whether at an informative study or a festive gathering. Keep well and do what you can to assist those around you who are in need.

-Mary Kichman, Executive Director at Pfeiffer Nature Center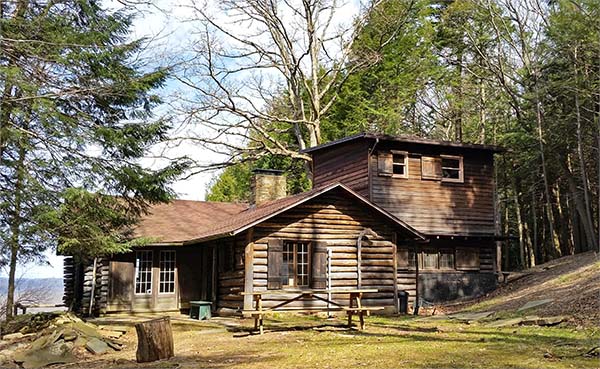 Love a great view?
Looking for a relaxing stroll, refreshing hike, or strenuous run through the woods?
Want to learn more about the natural world?
Do this and more at Pfeiffer Nature Center!
Pfeiffer Nature Center is home to more than 676 acres of nature's bounty. Located in rural, southwestern New York State, you'll find miles of open-access hiking trails, a historic American Chestnut log cabin, great birding areas, a picturesque pavilion available for rent, and so much more!
The Nature Center has two beautiful properties to explore. The Lillibridge Property consists of 188 acres of forest and has a rustic American Chestnut log cabin listed in the National & State Registers of Historic Places. The front of the cabin offers a spectacular panoramic view of both nearby farms and distant mountaintops. A timber frame pavilion offers a covered shelter for picnics and other events in the meadow.
Perhaps the most notable and majestic feature of the property is the 20 acres of rare, old-growth forest. It includes large specimens of Eastern Hemlock, White Pine, Red and White Oak, American Beech, and more. Hikes on our six miles of marked foot-trails pass through a variety of forest ecotypes, such as coniferous and mixed deciduous forests. Our terraces and slopes that rise 700 feet above the valley hint at 350 million years of geologic history.
The Nature Center also owns 488 acres on Yubadam Road, the Eshelman Property, which has an active sugar bush, on-going scientific research projects, and a small farm. There are nearly 4 miles of trails through forests, meadows, transitional zones, near ponds and wetlands. More trails are being developed to support snowshoeing and cross country skiing.
For those who want to learn more about the natural world, the Nature Center offers interpretative opportunities in science, nature, and art through programs and events throughout the year.
Get to know Pfeiffer Nature Center – find a spot in our woods to enjoy peace and quiet, come to our programs, become a member, volunteer, enter our film festival, or choose countless other ways to get involved. We hope to see you soon!