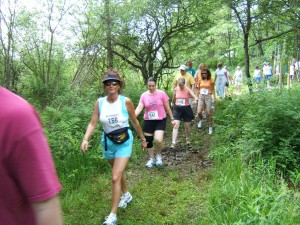 We're busily preparing for the 4th annual Woods Walk & Trail Run, and you won't want to miss it!
We get better every time, and this year's no exception. Most noticeably, we'll have improved trail markings, more trail guides, and a new road walk. Plus, with our ever-increasing emphasis on the health of our little blue planet, we won't be sending you home with a bag of things you'll never use. Register early (entry received by May 20) and you'll still get a wonderful 2010 Woods Walk T shirt. Plus, you can pick up what you like, from insect repellent to band aids, water to snacks, when you check in.
Our Finish Line Arena returns with their delicious food – turkey sandwiches from Sprague's Maple Farms, and homemade pasta salads and brownies, as well as other yummies.
Aid stations will provide you with water and snacks to keep you hydrated and energized. That's also where we'll be doing our tracking to make sure everyone stays on target.
To add even more incentive, we're part of the Eastern Grip Trail Running Series. Run more races, earn more points.
WHAT?! You haven't registered yet?! Go do it now!
Register online or call the office (716.933.0187) for a paper entry form.