Trails, Geocaching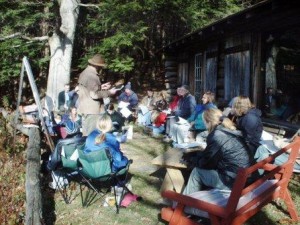 Summer, fall, winter, spring… there's always something to do here!
There are several independent activities to enjoy at Pfeiffer Nature Center. Lillibridge has a self-guided trail that explores many facets of the forest.  It is also home to the Lillibridge Trails, a multi-stage geocache with five waypoints loaded with fun activities for the entire family.  Our seasonal walks guide you through the forest exploring flora and fauna.
Our year-round programs appeal to all ages and interests, time slots and talents.  Nibble a topic for an hour or spend an entire day in an intensive hands-on workshop.  Learn more about the natural world in an old-growth forest, a wetland, or meadow.
Weaving Natural Connections
See captive rehab birds up close in Owl Prowl, then hike through our woods to call in their wild cousins.  Find and identify our little woodland and creek creatures in Creek Critters.  Wander through our avian-friendly transition areas with a master birder in Breakfast with the Birds.  Enjoy many winter activities including snowshoeing, cross country skiing, and sledding.
Get instruction from a professional artists in Watercolor Wonder, one of our intensive summer seminars, and leave the day with more than one finished work of your own, regardless of your starting skill level.
Both sites are host to academic research and citizen science projects.  Ask how you can get involved!
Nurturing Appreciation of the Natural World
Students, teachers, you too can experience the wonders of the natural world with your classroom in the Adopt A Tree program or during an advanced nature study program. Join in the fun.
Come discover Pfeiffer Nature Center!
Click here for our programs and events calendar!