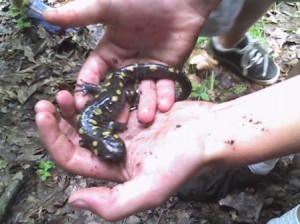 The Lillibridge Property consists 188 acres and 6 miles of hiking trails.  It is home to a national & state registered historic cabin and is one of the largest privately held and easily accessible tracts of old-growth forest.  The Lillibridge Property is located at 1974 Lillibridge Road, Portville, NY 14770. View Google Map
The Eshelman Property has 460 acres and has 3+ miles of trails through wetlands and secondary growth forest.  Historically a small farm, we are gradually reclaiming it for these purposes.  The Eshelman Property is located at 1420 Yubadam Road, Portville NY. View Google Map
Together the two properties offer hills and flatlands, wetlands and meadows, old-growth and second-growth forests and much more.
Hours: Both properties are generally open, dawn to dusk, year round.  Eshelman is closed October through December for hunting season.
Admission: There is no admission fee.  Membership, donations, and Adopt A Tree sponsorships help us maintain the trails and provide education programs to the public.
Information Kiosks: Kiosks are located conveniently close to the parking areas.  Each kiosk contains a site map, general information, and is stocked with trail maps.
Programs & Events: The Nature Center provides a wide variety of programs year-round on both properties.  For program descriptions and dates, click here.
Free guided nature walks are offered periodically.  For upcoming dates, click here.
Eshelman is home to our annual Woods Walk & Trail Run on National Trails Day each June, part of the Eastern Grip Trail Running Series.
Guided tours, birthday parties, rentals, and custom programs are available at either site for a modest fee.
Parking: Our graveled lot at Lillibridge accommodates approximately 20 cars or 4 school buses.  It is dangerous to park directly on Lillibridge Road as we are located on a blind curve.
Eshelman has a stable surface grass lot that can accommodate approximately 30 cars.  Larger vehicles should park along the paved roadway.  For special events, accommodations can be made at both properties to handle additional cars.
Facilities: Lillibridge has seasonal port-a-potties, a covered pavilion for picnics, and a small BBQ.  Eshelman usually has a seasonal port-a-potty.
Trash: These are carry-in, carry-out sites.  Trash receptacles are not provided.  Please practice Leave No Trace.
Hazards: Be cautious of falling branches during windy days in the old-growth forest.  Some trails are impassible during spring flooding.  Wear appropriate footwear when hiking at either property.  Watch for poison ivy, particularly in damp spots.  Neither location is safe during lightning storms.
Seasonal Concerns: The Lillibridge Road approach from Olean is seasonally maintained.  It is recommended that you approach the Lillibridge Property from Portville during the winter months.
Emergencies: Cell phone reception is usually reliable on both sites.  Dial 911 for assistance.