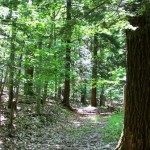 Over 135 years ago, J. Sterling Morton founded Arbor Day in Nebraska.  Today trees are facing even more dangers than they did back then.  They are being destroyed by wildfires, insects, diseases and natural disasters.   All of these threats make Morton's simple idea of a special day for planting trees more important than ever.
According to the Arbor Day Foundation, the benefits trees provide are enormous:
Over the course of 50 years, a single tree can generate $31,250 of oxygen, provide $62,000 worth of air pollution control, recycle $37,500 worth of water, and control $31,500 worth of soil erosion.
"More than 160,000,000 Americans have healthy, clean drinking water thanks to life-giving forests.
New trees are urgently needed to filter rain water and snowmelt and keep mud, ash, and silt from contaminating fresh-water lakes and reservoirs.
Forests also clean our air, absorb carbon dioxide, and provide vital habitat for threatened wildlife.
How You Can Help
The time to act is now.  Here in Western New York native trees are being invaded by invasive insects and some trees still show the damage of winter storms.  Residents can help:
Plant a tree to mark a celebration or memory.
Read a book about trees.
Learn to identify trees in your yard or neighborhood.
Enjoy the outdoors and remembering to look up.
Visit a local park (ie. Pfeiffer Nature Center) or take a nature hike.
Attend a class on trees and their care (You just missed our Pruning 101 workshop).
Volunteer with a local tree-planting organization or as part of our Adopt-a-Tree program.
Sponsor one of the many trees in our Adopt-a-Tree forest in our Old Growth Forest on our Lillibridge Property.
Encourage the younger generation to learn more about trees.  (Encourage your child's class to partcipate in our Adopt-a-Tree program or attend one of our free nature hikes.)
With over one million trees planted on the first Arbor Dayon April 10, 1872, I think we can do our part here in Western New York.  You can start to make a postive impact on the world just through increasing your knowledge of trees and the Pfeiffer Nature Center is here to help.  We would love to here how you celebrated National Arbor Day.