The Birds are Coming! The Birds are Coming!
This has been a long, cold, snowy winter. We are ready for signs of Spring! Birds are one of the first signs that Spring is coming and now is the time to prepare for their arrival.
There is nothing better to ward off the Winter Blues than seeing a beautiful mother Robin attending to her new family in a backyard tree or hearing the beautiful song of an Eastern Bluebird just outside your window.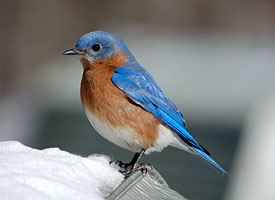 Bluebirds, New York's State Bird, return to our area in late February or early March and we are offering Preparing for our Feathered Friends on Saturday, February 22nd from 11am to 1pm at the First Presbyterian Church in Portville. This is a wonderful opportunity to learn how to encourage birds to nest in your yard – as well as building a birdhouse to make your yard even more inviting!
During this program you'll learn about the needs of different birds and have time to build your house to finish at home. Just $18/person includes all materials to build a birdhouse of your own!
Pre-registration is required and group size is quite limited, so register early to ensure your space. Register & pay securely online or call us at 716-933-0187.