…What stars will we see tonight?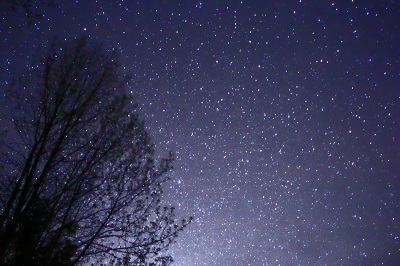 The night of the new moon – when the moon is completely hidden by the sun – is the perfect time for sky watching.  With no visible moon, the other heavenly bodies are much easier to see.  It's also a great time to cuddle with your sweetie on a blanket while you marvel at the millions of stars and contemplate your place in the universe.
Join us on Wednesday, May 28, from 8:45-10:30PM at 1420 Yubadam Road for Muses of the Forest – Astronomy!
David Toot will lead us in our starry explorations. An astronomy professor, Dave's been Director of Alfred University's Stull Observatory for more than a decade, so he knows the heavens like the back of his hand.  He'll share some of his knowledge, showing us how to see particular stars or clusters and understand what we're seeing.  We'll also learn a bit about what the stars can teach us about the earth – and ourselves!
Bring your binoculars and a lawn chair if you'd like, and enjoy the beauty that the night sky offers.
Cost is $8/person and reservations are required.  Pocket constellation field guides are available for an additional $5 (must be ordered by May 20)..
This is the first in the Nature Center's Muses of the Forest series – watch for more fun throughout the season including painting, dance and music!
Register online now or call us at 716.933.0187.