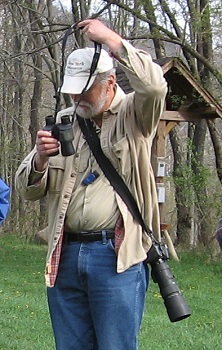 Birders can be a funny lot.  By that I mean humorous – although they can be a bit eccentric, too.  Have you seen The Big Year with Owen Wilson, Jack Black, & Steve Martin?
The warm days of glorious summer have arrived and the sounds and sights of nature this time of year are magnificent. Our feathered friends are visiting for the season and it's the perfect time to get out and take in the beauty.
We promise is a great time seeing and hearing lots of different birds, learning from experts and each other. Share everything from what kinds of binoculars you like in the field to your favorite field guide.  Feel free to say things like, "I don't see a bird in that tree," "Which bird said that again?" and "Wow – that's a big lens!"    
Expert birder Tim Baird, here getting ready to share his binoculars, will lead the group on a walk through our meadow and transition area, and perhaps into the forest itself.
The weather won't dampen our spirits as we find our feathered friends. Our first Bird Walk of the season had 18 birders – how many birds do you think they identified?  We're not telling.  🙂
Join us for another FREE guided Bird Walk Saturday, May 24, 9-10:30AM, 1420 Yubadam Road.   It's a great opportunity to scope out the nesting behavior of our locals and migrants as we explore our marvelous meadow, beautiful transition area and wondrous woods. There is no better medicine for stress than taking a nature walk through the woods with your binoculars taking in all the beauty and music that birds offer us.
This program is part of our Naturalist 101 series.  Register now to reserve your spot.