Visitor Info & Trails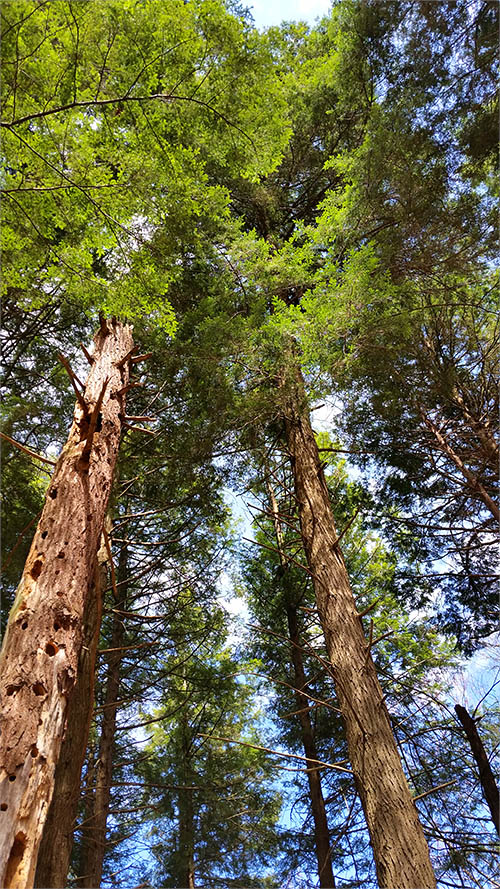 Trails and Hiking on our two properties:
The Lillibridge Property consists 188 acres and 6 miles of hiking trails. One of our trails on this property is handicapped-accessible.  It is home to a national & state registered historic cabin and is one of the largest privately held and easily accessible tracts of old-growth forest in our region. The Lillibridge Property is located at 1974 Lillibridge Road, Portville, NY 14770.

View Google Map

The Eshelman Property has 488 acres and has nearly 4 miles of trails through wetlands and secondary growth forest.  Historically a small farm, this property has a variety of habitat, successional forest, wetlands, and mixed areas. Birders especially enjoy this property during migration events.  The Eshelman Property is located at 1420 Yubadam Road, Portville NY. View Google Map
Click here for trail maps on both of our properties!
Together the two properties offer hills and flatlands, wetlands and meadows, old-growth and second-growth forests and much more.
General Information:
Hours: Both properties are generally open, dawn to dusk, year round. Unguided activities are not permitted after dark. The Eshelman property is closed October through December for hunting season.
Admission: There is

no

admission fee.  Membership, donations, and Adopt A Tree sponsorships help us maintain the trails and provide education programs to the public. Please consider becoming a member if you love our trails!
Pets & Animals: Dogs love hiking, and we love dogs! Please keep your pet on a leash, not only for the safety of other hikers, but our wildlife as well. Please pick up after your pets. Horseback riding is not permitted.
Information Kiosks: Kiosks are located conveniently close to the parking areas.  Each kiosk contains a site map, general information, and is stocked with trail maps.
Programs & Events: The Nature Center provides a wide variety of programs year-round on both properties.  For program descriptions and dates, click here.
Parking: Our graveled lot at Lillibridge accommodates approximately 20 cars or 4 school buses.
Eshelman has a stable surface grass lot that can accommodate approximately 30 cars.  Larger vehicles should park along the paved roadway.
Vehicles: All motorized vehicles, including but not limited to: snowmobiles, ATVs, UTVs, off road trucks, dirt bikes, etc, are strictly forbidden on the trails.
Camping and campfires: Camping and campfire activities are not permitted.
Fireworks: Fireworks and open flames are not permitted.
Foraging: In order to maintain the forest in its natural state, foraging and gathering of plants, fungi, or wildlife is prohibited.
Security: Video surveillance is in use on the Lillibridge property and cabin. Please report any unauthorized or suspicious activity to the police or contact our office at 716-933-0187.
Facilities: Lillibridge has a seasonal port-a-potty, and a covered pavilion for picnics and rentals. Our cabin is occasionally open during certain events (please see our programs calendar). The cabin is a historic structure; do not attempt to enter or climb on the cabin as this can cause extensive damage.
The Eshelman property utilizes several foot bridges over Coon Branch creek for easier access.
Trash: These are carry-in, carry-out sites.  Trash receptacles are not provided.  Please practice Leave No Trace.
Emergencies: Cell phone reception is usually reliable on both sites.  Dial 911 for assistance
Seasonal Concerns and property hazards: The Lillibridge Road approach from Olean (Wolf Run) is steeper and snow does drift in. The Portville Town Highway Department does their best to keep it clear.  It is recommended that you approach the Lillibridge Property from Portville during the winter months and during any adverse conditions.
Neither property is safe during lightning storms; seek shelter! Use good sense and watch out for poison ivy, and always check for ticks when exiting the wilds. Be cautious of falling branches during windy days in the growth forest. Many of our trees are old and may drop branches and limbs in windy conditions!
The Eshelman property has a stream, beaver activity, and several wetlands. The lower areas of the property can become quite wet during heavy rainfall and spring melt events, so please use care and choose appropriate footwear. Some trails may become impassible during flooding; never attempt to cross flooded areas.