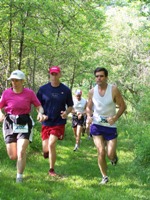 Woods Walk & Trail Run 2012 is just around the corner. Trails are groomed and being marked, freebies & prizes are in house, programs are printed, signs are made, food is planned, and a myriad of other details are in play.
If you haven't yet entered one of the six events in the 6th annual Woods Walk & Trail Run, there's still time.
Enter online NOW to make sure you don't miss out.
This is the ONLY time all year that you can walk between our two properties; we get one-day permission from kind landowners between Yubadam Road & Lillibridge Road.
Woods Walk & Trail Run has something for everyone, regardless of your fitness level.  Choose from three walks or three timed runs:
Guided nature walk of less than 1 mile
4K walk
10K hike – NOT EASY
5K timed run – moderately difficult
10K timed run – CHALLENGING
10.5 mile timed run – REALLY RUGGED
You can get trail maps & descriptions, results from last year's events, information about the Eastern Grip Trail Running Series, and lots more at the Woods Walk website.