It's spring! At least I hope so.  That means it is time to hit the trails.  I love trail running, especially now when the prospect of getting muddy isn't just a hope but a reality.  I can't think of any other sport I participate in that is better at bringing out the kid in me.  Spring trail running provides the best excuse to get muddy, splash through streams, and scrabble over trees and rocks.  Such fun!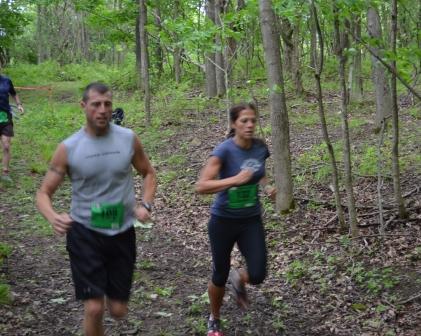 Trail running also reminds me of how lucky I am to live here.  Not only are there so many great trails to run, but there are lots of great trail running races.  One of my favorites is Pfeiffer Nature Center's Woods Walk and Trail Run.  The 10 mile run is not too long and not too short and just the right level of CHALLENGE.  I love the tough climbs, the perfect excuse for me to walk, the screaming descents, and the fantastic views, yet another great excuse to slow down or even stop.  Honestly, Pfeiffer's 10 mile course is a tough one.  That's why I love it andwhy so many other trail runners love it.  Of course any trail run is a wonderful opportunity to talk with other trail runners, find out about upcoming trail races (check out the Eastern Grip Trail Running Series), and just have fun.
When I think Pfeiffer Nature Center's Woods Walk & Trail Run, I think fun, food, and family.  Just past the finish line there is a food tent with lots and lots of yummy food.  In past years there have been massages for aching muscles and neat birds to look at.
So come run Pfeiffer.  It's June 1st, there are a variety of activities, both walks and runs.  It's a perfect way to spend the day with your family and friends.