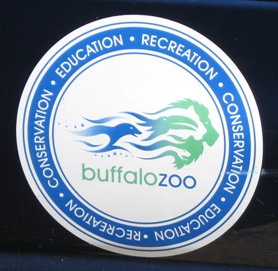 On Tuesday, August 6, 2013 20 young hellbenders were released into the Allegany River. These large salamanders, listed as an animal of special concern in New York since 1983, were raised at the Buffalo Zoo in a partnership with the NYS DEC.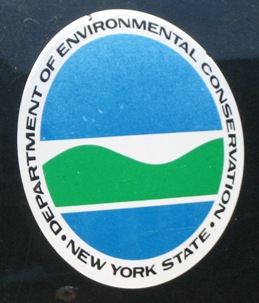 No fewer than a dozen people were on hand to help or just to watch – I was a watcher. If I'd had more than a few hours notice I would have dressed appropriately instead of wearing my good pants, good shoes, and nice top to the office that day. Still, I was thrilled to be able to join the crew of mostly young adults.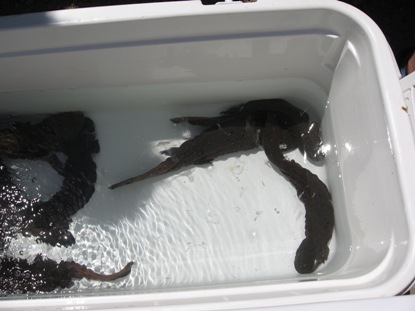 We gathered near the road and began our single file trek through the woods and down to the creek.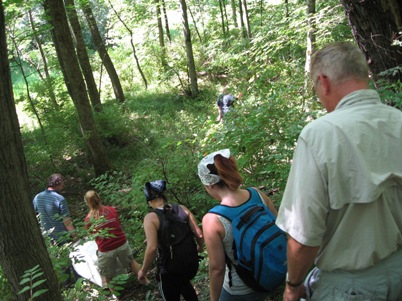 As we did so I learned that at least two of the young women are working on advanced degrees, using the hellbender as their thesis projects. All of the animals had radio transmitters surgically implanted at the zoo, and the students are tracking their movements. Right now that tracking takes place a few times a week. Once college classes start it will become weekend tracking, and once winter hits likely monthly tracking – ice and snow will likely result in little hellbender movement, convenient since it will also make tracking more of a challenge for the students.
The hellbenders were in a large cooler with water and an air pump. It was pretty heavy – at least it looked that way; I didn't take a turn carrying it.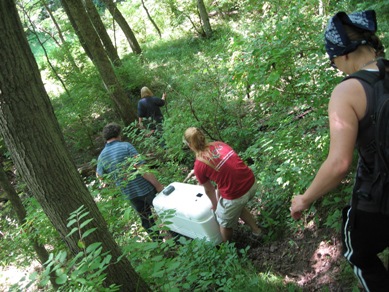 When we got close to the river it was apparent that there was no easy entry. The banks were steep in both directions – definitely not designed for good pants & good shoes. People were gracious and helped me down.
Once at the river's edge we had to take readings – air temp, water temp, and temp of water in cooler. Then the majority of the group waded downstream, finding deeper water. Darn those good clothes!
I did get a few shots of some lovely native lobelia growing on the banks, and a beautiful damsel fly.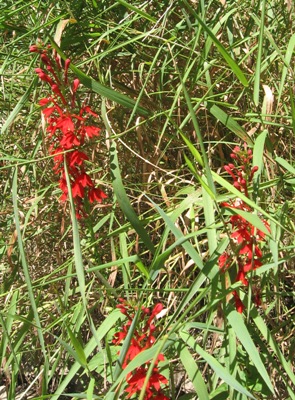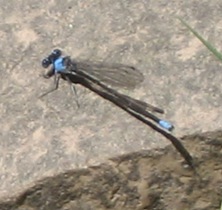 Finally I rolled up my pants, took of my shoes, and carefully picked my way over the slippery rocks to get closer to the action – as close as I dared, anyway.
As I understand it, here's the release process:
Go into the river. Measure water temp again. Find likely rocks on river bottom for a hellbender to hang out under. Check depth of water there. Poke around and see if there are many crayfish in the area (a hellbender diet staple).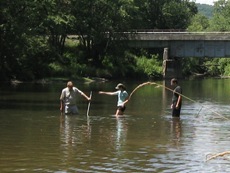 Once you've got the spot picked out, call upstream for a hellbender. Scoop hellbender out of cooler with a small net, holding him in the cooler water while he's scanned to get the code of his transmitter. Transfer him to a larger net.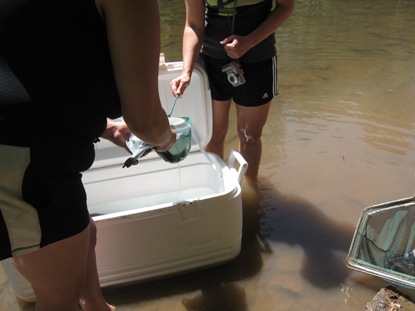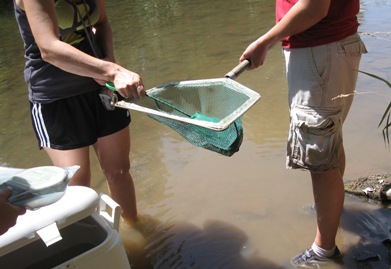 Slowly & carefully carry hellbender in the larger net, with the animal in the water, the roughly 150′ to the place he'll now call home. GPS that location. Using a log roller, lift a big, flat rock to make sure somebody's not already living under it. Replace rock. Release hellbender near rock.
Do all this while raising as little silt as possible and recording all the data you're gathering.
Repeat 19 more times.
It's all worth it. Cattaraugus County has the largest number of hellbenders in NYS. These animals are really interesting and definitely worthy of our care & protection. Learn more about hellbenders and the DEC-Zoo partnership. Watch a video from the hellbender lab at the Buffalo Zoo or a video from WGRZ about an individual hellbender.